The Le Mirage Pro Shop, one of the most beautiful in Canada, offers you products of all price range to satisfy every need. You're welcome to come see us.
Did you know? Our Pro Shop is opened to the public on appointment! Come see us for the newest golf products on the market: clothing, shoes, accessories and equipment.
For an appointment, contact us: (450) 477-7280 extension 231.
Come see us at the Pro Shop to take advantage of our different sales!
Promotional items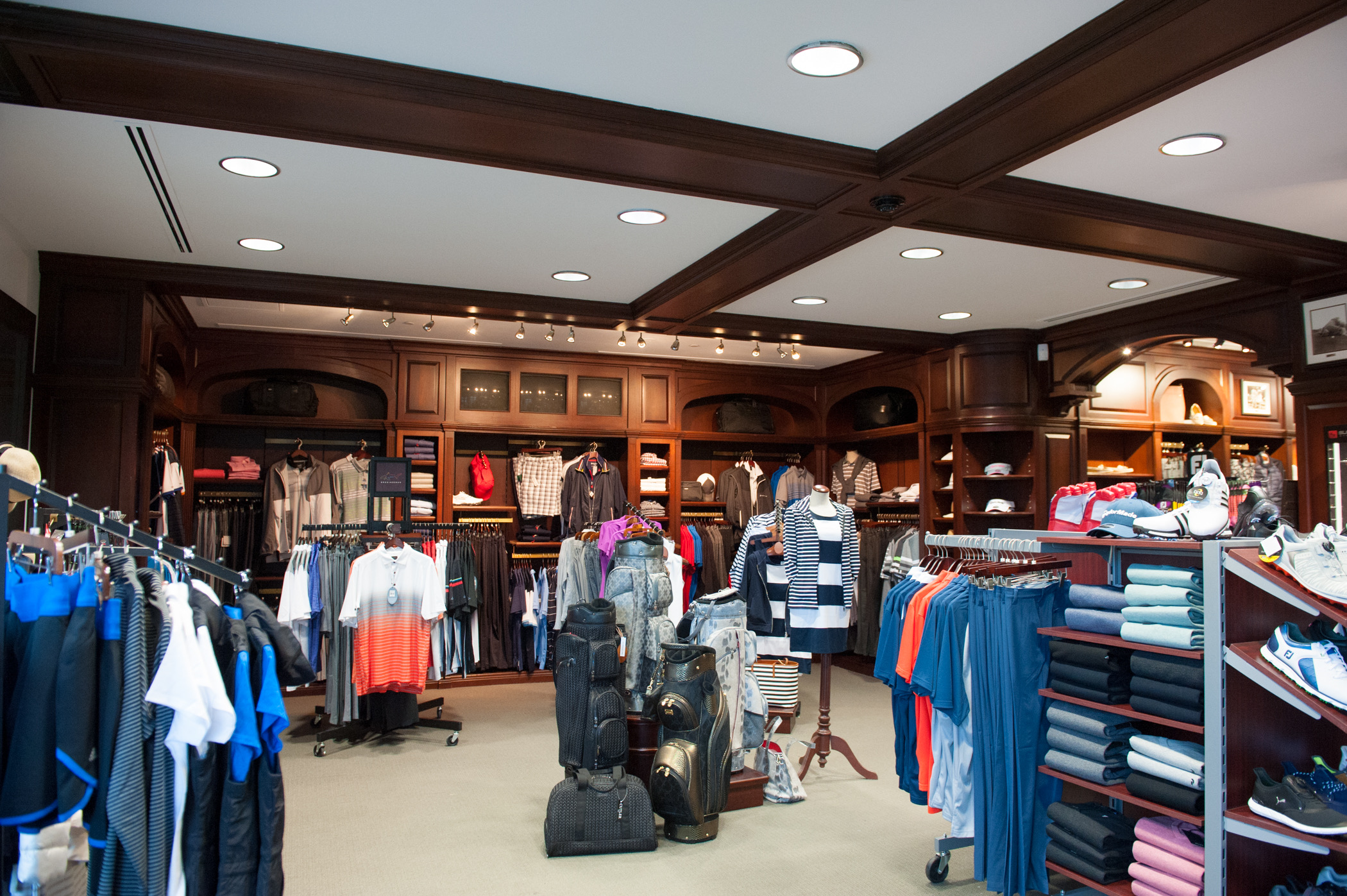 The Le Mirage Golf Club Pro Shop would like to offer you its services. We are available to advise you on your purchases of equipment and business products as well as on your golfing activities with your clients. Maximize your investment by making the most of advantageous prices and sound advice offered by our golf professionals.
Take advantage of the best facilities in the province to receive your VIP clients and give them the opportunity to enjoy all the privileges Le Mirage has to offer for a day. Whether for business meetings, golf workshops, mini-tournaments, or simply to take advantage of our magnificent reception halls, you're sure to give your clients an unforgettable day with us! You can contact France Trudel at 450 477-7280, ext. 238 or by email francet@golfmirage.ca.
Clothing
For 2021, clothing styles remain similar to previous years. All you'll have to do is update your outfits.
Collections that combine golf with an urban style are the most popular. Travis Matthews has really pushed this style of clothing into the world of golf and many brands have followed suit.
For spring 2021, darker and more subtle shades such as black, grey and navy blue are making a strong comeback. Sporty monochrome looks are also in fashion. We will also find rich colours worn by both men and women. The most prominent shades are raspberry pink, lime green, cobalt blue and neon yellow.
For women, retro and animal prints are popular. Zebra stripes steal the show from leopard print. Stripes, checks and retro-inspired geometric patterns are very present. One of the season's star colours is green, which is found in palm and tropical tones.
You'll enjoy all the great technology that golf companies are known for. Clothing will be lightweight, made from performance materials, but the emphasis will be on clothing that will protect you from UV rays.
We are waiting for you at the Pro Shop!
450-477-7280 ext. 1031
Have a good season!
Distinctions
The Le Mirage Golf Club Pro Shop has been awarded the following distinctions :
PRO SHOP OF THE YEAR
Awarded by the Quebec Professional Golfers' Association (PGA) in 1998
THE PRESTIGE PRO SHOP OF THE YEAR IN CANADA
Prize awarded by Pro Shop Magazine in 2006
Le Mirage Golf Club won the Callaway Club Fitter of the Year award in Canada in 2004, 2005, 2007 and 2010